Home
Welcome to The Gospel Project, home of celebratory music! We're glad you've found us. If you're searching for a first-rate professional gospel ensemble for your wedding, retirement, celebration, function or indeed any occasion that calls for joyful music, then look no further.
We're based in Dublin, but travel wherever the music demands. Our remit includes everything from raising the roof at festivals and writing our own original material in the gospel genre, to providing top-quality gospel music for wedding ceremonies, functions, and corporate events. One of this country's finest vocal harmony groups, we are guaranteed to make any occasion unforgettable.










Boasting experience, outstanding musicianship, and an unmistakable passion for the music we perform, The Gospel Project have been raising roofs around Ireland since 2004. In addition to singing at weddings, we have considerable experience recording, and performing at functions and corporate events in venues such as the National Concert Hall, Phoenix Park,The Sugar Club, Crawdaddy, The Button Factory, Dunamaise Arts Centre, the Axis Centre and The RDS.
This is, without a doubt, our favourite time of the year! Coming in to the summer, it's wedding season, and love is most definitely in the air…..so we couldn't resist sharing this clip of one of our favourite gospel-style love songs, Jackie Wilson's Higher & Higher. 
This is one of our most popular wedding songs for the exit, guaranteed to finish out your wedding ceremony on a high. We recorded this version live at Gandharva Loka in Dublin's city centre a few weeks ago, at a rather special concert to mark Valentine's Day. The last time we played in that space was just before the first lockdown, in Spring 2020…..such a thrill return to this gorgeous venue after some very dark times since. But we don't complain;  after 18+ months of weddings and events postponed, and postponed again, we put all that behind us last year with our busiest season for years, singing our hearts out at celebrations the length and breadth of Ireland. We loved every minute of it, and we're happy to report that 2023 is shaping up to be just as full of joyful celebrations, and Happy Days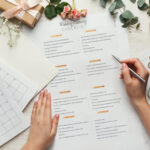 As we head into full-on wedding season, we'll be posting regularly with ideas and updates about the 2023 wedding landscape! But if your own big day is a while off, and you're looking for tips to help you navigate the music side of your planning, be sure to check out some of our great posts, where we go through everything from how much music to include in your ceremony, to when you should pick out your songs, to a few myth busters about 'the rules' on wedding music! Just a few of the gems of wisdom we've picked up since we blazed onto the wedding scene in 2004.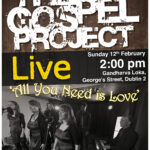 Got any questions on any of this? Don't hesitate to get in touch, we're here to help! 
Bookings:
If you're planning your 2023/24 wedding, do consider that we're still supporting couples who had to make the difficult decision to reschedule their 2020 or 2021 wedding celebration, sometimes several times, so our calendar for is filling up faster than usual. If we say so ourselves, we make any event special. But we don't just say so ourselves! See what some of our previous clients have written about us here  And if you think we might be the group to make yours a Happy Day, don't hesitate, we're looking forward to hearing from you. 
Cathy + The Gospel Project team
---
If you're planning anything from a christening to a retirement party, festival opening, or even the blessing of a tennis court, we've done it! And we'll be delighted to bring our unique brand of joyful music to your celebration, so get in touch today 🙂
.……..New single Heard You Call My Name now available from 

Back catalogue:
The Gospel Project's  debut album, On the Outside, is  also available to buy at live gigs, from Tower Records, Road Records, and Sound Cellar (all in Dublin), as well as from CD Baby and iTunes:
'On the Outside is well worth checking out. Superb soul vocals…. funky guitar…. uplifting ensemble singing. 'Something so Wonderful' (the Eleanor McEvoy co-write with Henry Priestman) here truly blossoms into a delicious example of the genre'
Hot Press