Weddings
If there's one thing we really love, it's performing at wedding ceremonies. In fact, that's why The Gospel Project originally formed, in 2004. Our founder, Cathy, has been on the gospel music scene since gospel choirs were a new thing in Ireland, and saw an opening for a dedicated professional ensemble who could meet the demand for gospel music at wedding ceremonies. Although our remit has expanded considerably since then, we continue to provide top-quality music for weddings all over Ireland. If we say so ourselves, we're very good at it. Don't take our word for it though, check out what clients have to say about us over on weddingsonline – you'll see we're in a league of our own if customer feedback is anything to go by.
For a wedding ceremony we recommend what we call the Gospel Project Vocal Ensemble, a 6-piece outfit  comprised  of our 5 superb singers plus piano player, with the vocalists also playing various instruments including guitar, flute and violin. See also our Members page to find out more about who'd be singing at your ceremony – you can even choose particular soloists!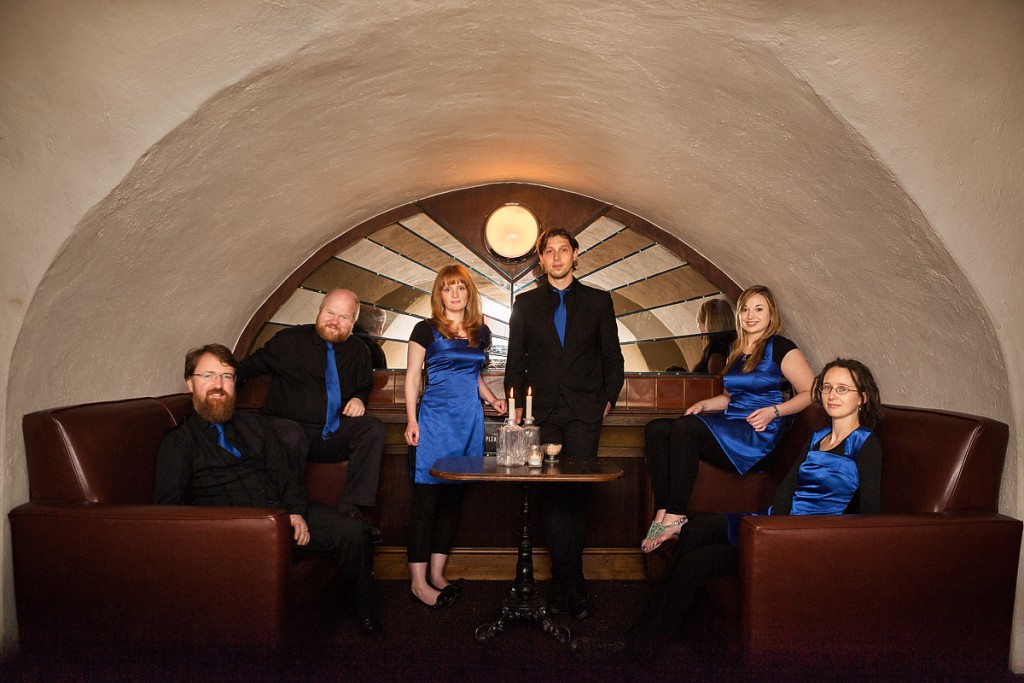 Uniquely on the Irish gospel scene, The Gospel Project is not a subset from a larger choir, but a standalone ensemble comprised of professional musicians. So get in touch today, we look forward to hearing from you!
We've also formed a partnership with Ireland's top bluegrass/country band The Whole Hog, offering generous discounts to couples who book both ensembles for their big day. Further info please contact Cathy or info@thewholehogband.com
5 reasons why you should book The Gospel Project for your wedding ceremony
1) Talent & professionalism:
Each member of the ensemble is a hugely talented performer in their own right, and collectively we guarantee you will not find better. We've been providing gospel music for wedding ceremonies throughout Ireland for 10 years so far. In addition to our 5 superb vocalists (3 female, 2 male) and our piano player, our talents run to playing flute, percussion, violin, and guitar – meaning as well as roof-raising gospel tunes we can provide a wide variety of music in alternative genres.
2) What you see is what you get:
Uniquely on the Irish gospel scene, The Gospel Project is not a subset of a larger choir but a standalone 6-piece ensemble. Barring occasional substitutions to allow for holidays or illness, it is always the same 6 people.
3) Your ceremony should be fun:
Gospel music is fun, uplifting and makes your wedding ceremony feel like a true celebration.
4) Tailor-made vocal arrangements:
We create all of our own vocal arrangements, so if you have a specific song you'd like to walk down the aisle to that is not part of our repertoire, we will arrange it especially for your wedding ceremony in 6-part harmony. This musical arrangement is then unique to your ceremony
5) We're nice.
Seriously, you'll find us very pleasant to deal with. We take pride in providing a friendly and efficient service to all our clients in the lead-up to their big day, and we will always get back to you promptly with any questions you may have.
So what are you waiting for? Contact Cathy today on 087-6361314 for a quote or for more details!
More Testimonials
As well as reading our glowing reviews on weddingsonline,  please browse the following for feedback we've had from delighted customers at weddings over the years:
I'm so happy we chose the gospel project for our wedding day they made the church feel so special. Their sound and harmonies were beautiful and uplifting and I received so many great comments from my guests. Many of my guests said they felt like clapping after every song.
Ann Marie & Patrick, May 2016
The Gospel Project made our day! I would highly recommend them to any couples considering music for their Ceremony. The music was so uplifting and beautiful and Cathy was so helpful in the weeks beforehand and was available to answer any questions we had. The music was perfect!
Lisa & Alan, November 2015
Cannot say enough good things about the gospel project and what lovely friendly people they are to deal with! I am still getting complements almost daily about the ceremony music and so happy to recommend them on. They set a happy tone for the whole day and I'm just delighted to have had them at my wedding, I'm now dying to see the DVD to hear them again 🙂
Michelle & Richard, March 2015
What can I say you guys were amazing!!!!! You were even better than I expected you to be, I can't thank you enough!
I hope you get some repeat business out of this as everyone was talking about you and asking who you were. Amazing! Thank you so much for contributing to make our day so special!
Rachel & Philip, December 2014
The music was absolutely fantastic we knew that you would be good after watching your Facebook video but your music completely blew us and all of our guests away. All of the guests commented on the ceremony and especially your performance. Thank you so much for being a huge part of our ceremony.
Nathan and Cliona, November 2014
I just wanted to drop you a line to thank you so much for the wonderful wedding music you guys gave us. It made the ceremony so special. I knew it was going to be good after hearing you but adding the new songs and church atmosphere made it so special for us  And everyone was talking about you guys for the rest of the day. Thank you for being so professional & helpful to deal with! I will be recommending you to any of my friends who are getting married!!
Sara & Paul, August 2014
I just wanted to say thanks for the amazing singing at our wedding on the 21/8. The amount of compliments you guys got from our guests was unreal!
I thought you guys were absolutely fabulous! From the minute I contacted you you were so lovely and easy to deal with. The song choices you recommended were perfect and the song you learnt for us was great. The singing in the church started the day on a really beautiful, relaxed note and I think gave the day a happy, fun vibe right from the start. I was so pleased with the music, I absolutely loved it. Thank you so much. I will be recommending you to any friends who are getting married!
Thanks again,
Lizzie & Darragh
August 2014
Cannot recommend this group enough! Similar to other comments they set the tone for the whole day, everyone was raving about you guys – there was even a few who said they wanted to get up and dance! They add something different to the regular church songs and created a fantastic atmosphere in the church. The church unfortunatly also mixed up our start time the day before the wedding causing me some stress 🙂 but the group were highly accomodating, arriving at the church 3 hrs earlier to practise the new songs they were going to play for us on the day. I would love to be arranging another event in order to hire them again! Thanks so much again X
Words can not express how fantastic the Gospel Project were at our wedding. Their voices were pitch perfect and every song was simply stunning! Every single guest was blown away with how good they were! They effortlessly managed to create an easy going, positive vibe that continued throughout the whole day. Even prior to the wedding the amount of help and support provided by Cathy was above and beyond. If you truly want the best start to your day, you can be guaranteed that the Gospel Project will succeed in delivering! A Million Thanks!
We just want to say a massive thank you to The Gospel Project. You guys were absolutely amazing and really made our marriage ceremony the favourite part of our day. Our guests were blown over your performance and everyone complemented you. Thanks so much!
Eimear & James, November 2013
The best gospel choir I've heard in this country
Shay Casserly, Wedding Videographer (http://www.shaycassvideo.com/)
I can't let another day go by without thanking The Gospel Project for epic, uplifting and soulful music at our wedding ceremony in Moneenroe on Sept 7th. You had my head swinging, my heart lifted and my soul smiling! I can honestly say ye along with the priest made our ceremony very special, Eoin & myself truly felt the love & warmth on that day. I have had three of my friends ask for your details as they were so moved by the music. So keep up the fantastic work and sharing the gifts ye have been given!! Warm wishes
Julie-Anne & Eoin Kelly, September 2013
Hey Guys,
Just a quick note to say a huge thank you for your performance at our wedding last month.The quality of the singing on the day was absolutely amazing and to say that we and our guest were blown away would be an understatement.
Ye were so professional in all our dealings with ye from start to finish and we really couldn't have being happier with the music at the wedding, it really helped make the day so special
Your singing put everyone in such good form for the day and our guest couldn't have being more complementary about ye
We'd highly recommend ye to anybody considering the music for their wedding ceremony and we hope to see ye at such an occasion again sometime
All the best
Orla & Cathal, 16th September 2011
We had the Gospel Project play at our wedding ceremony this past month and they were truly AMAZING! They really made our wedding! The guests really really loved them and were talking about them all day. The lively and beautiful music really got them all going. If its the only thing you splash out on I would pay for these guys! Trim off chair covers and other unnecessaries to have them…thats what I would say. Cathy is so helpful with the layout of the mass booklet and has endless patience with any questions. My favourite song was our communion choice of Bruce Springsteens version of When the Saints go Marching… I was speechless! I would not hesitate in recommending them.
Terry, July 2010
Oh my God, what a performance! We had the Gospel Project perform at our wedding ceremony last month and along with all the guests were blown away by them. From the the very start with dealing with them they were amazing and very helpful to us in picking our song choices .We would also reccomend to have them sing any psalms during the ceremony as it made even more special. We would have no hesitation in reccomending the Gospel Project to anyboby and believe us when we say that you will not be dissappointed!
Brian & Ruth, July 2010
WOW WOW WOW Ye were all we wanted and more THANK YOU ALL SOOOOOO MUCH everybody is still talking about ye as being the highlight of the wedding, the church was swaying and ye began the party for us perfectly! Thanks so much Cathy for all your help with choosing the songs and all your voices were so amazing we were blown away by every song.
Leona & Alan, December 2009
I just wanted to thank the members of The Gospel Project for making our wedding day so special. You have no idea how happy we were with your service, we loved each and every song and everything went according to plan, as we discussed. Guests spent all day commenting on how brilliant you were.  It really was wonderful and made our ceremony very special and personal.
You were a pleasure to deal with from beginning to end we will happily recommend you to any future bride and grooms!
Best wishes for the future,
Sharon & Eddie, December 2007
*To avail of this offer, deposit and completed booking form must reach us by January 31st. Please note this offer does not apply to existing bookings.